Mr. Sandeep Aggarwal, Founder & CEO of  Droom (India's first automobile marketplace), shares his views on how technology is helping overcome trust and transparency issues in the buying and selling of new and used automobiles.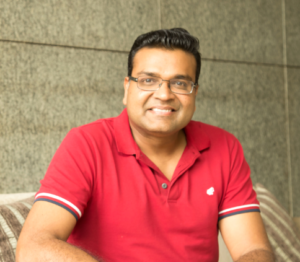 Q1. For some of the uninitiated readers of this article, could you please tell us briefly about the Droom story?
Mr. Sandeep Aggarwal: In 2012, India finally hit an inflection point when the used automobile market became larger than the new vehicles market. Droom started back in 2014, when India was not as online automobile marketplace friendly as it is now. The used vehicle industry was very scattered, buying and selling vehicle online was not a good experience for anyone as it was unorganized, largely due to information asymmetry and lack of trust and transparency.
When Droom started its commercial operations in India, we noticed two main factors which were a hurdle, first was pricing and second was trust. This was the major challenge which Droom had to solve. There were already players in online space like olx, quickr, car dekho, car trade, carwale etc. but there was no significant player in the online used vehicle market segment and it was very difficult for the customers to just look at the images of the vehicle and the description given by the seller and pay money for the vehicle online. The buyer could not trust whether the image of the vehicle was real and whether the price was reasonable in comparison to the vehicle's condition. Also, because there were no laws pertaining to the second-hand selling or buying of vehicles online, it was difficult to trust the online space.
Here Droom came in to the picture and provided a holistic platform to buy and sell anything on wheels (from bicycles to planes) and also provide the entire range of ecosystem services and tools related to automobiles such as Orange Book Value (Artificial intelligence and machine learning based tool to get the fair market value of any used vehicle), Eco App (for vehicle inspection at 121 checkpoints), Droom Discovery (millions of tools to help online buyers and sellers), Droom Credit (for loan on any used vehicle) and Droom History (History of any used vehicle in the country). These innovative ecosystem services have helped in bringing trust, transparency and standardization to our customers and enable end-to-end transactions through Droom's platform.
Q2. How has the market response been to Droom? Both from the consumer perspective as well as the businesses?
Mr. Sandeep Aggarwal: Used automobile buyers and sellers have shown tremendous trust and response towards droom and its user-friendly interface. Droom witnesses 34 Million+ monthly and more than 1 million daily visitors on its platform. Used automobile dealers have also shown a huge amount of trust in Droom, the platform has close to 250K auto dealers registered on it.
With a massive presence in 500+ cities across India, trust of consumers is also reflected in the number of orders Droom has fulfilled: More than 6 million orders delivered till date.
From a business perspective also the response has been mind-blowing. Droom crossed INR 3,000 Crore in annual GMV with just 25 million spend in 3 years of being operational. Droom has raised $95 million in just 4 years and crossed $725 million in GMV with an outstanding 220% Y-o-Y growth which is 11 to 12 times faster than overall E-commerce industry growth.
Droom is also looking forward towards international expansion and will register its presence in Malaysia and Thailand by the end of 2018 and will be in a couple of other South East Asian countries including Indonesia, Singapore, Myanmar, Cambodia, Philippines, Laos and Vietnam over the course of the next few years.
Q3. How do you see Droom evolving/scaling in the future?
Mr. Sandeep Aggarwal: In India, used automobile market has a huge potential for growth. The total market size of the used automobile market including big-ticket items, services, and insurance is 225 billion which is the third largest market size in the world after US and China. Out of this 225 billion, 1 billion is online and we own close to 75% market share of it. We hope that by 2020 we would be able to acquire 85% of the market size and cement our leadership position in the sector.
In the last 4 years of being operational, Droom has witnessed close to 3 lakh transactions worth 4,500 crores through its platform which proves the success of the implementation of the concept. Droom is currently doing $725 Million in GMV growing at the rate of 220% Year-O-Year and expected to achieve 18,000 Crore in GMV by 2019 and 90,000 Crore GMV by 2022.
There are a couple of markets that contribute the most to our business, such as, Delhi Bangalore, Hyderabad, Mumbai and looking at our internal surveys and offerings, we are expecting good amount of business to come from emerging markets such as Pune, Punjab, Jaipur, Chennai, Kolkata soon.
Q4. How does Droom differentiate itself from the other companies trying to build an online automotive marketplace?
Mr. Sandeep Aggarwal: At Droom, we are very passionate about bringing in greater trust in the buying and selling experience for any new or used automobile. What is differentiating us from our rivals is our focus on delivering end-to-end consumer-centric automobile solutions through technology. We are offering a truly 21st-century experience within the Indian automobile industry through our proprietary innovations such as Orange Book Value, Droom History, Full Circle Trust Score and ECO app. These innovations have allowed us to improve the trust factor associated with buying and selling vehicles online and have heralded a pricing advantage to both buyers and sellers through advanced algorithms and data science. This adds great value to the end-user transactional experience and helps differentiate us from the competition.
Q5. Any new venture faces multiple challenges, what has been the single biggest challenge for Droom? How do you plan on overcoming it?
 Mr. Sandeep Aggarwal: The biggest challenge for Droom has been in ensuring a high standard of consumer experience. We made sure that the quality of customer experience should not go down as we scaled our operations. We ensured that we maintained the integrity of the end-user experience on our platform by adopting and implementing a regulated, scientific expansion that had been meticulously charted out, well in advance.
Another major challenge is the unorganized nature of the Indian automobile industry, which is largely offline. Various industry data indicate that the online automobile industry at present is only 0.3% of the overall India automobile market and is only expected to account for 8% of the total by the year 2020. This heavy reliance on traditional, fragmented market approaches brings in many inefficiencies and gaps in the overall transactional experience. This is what we actively trying to eliminate through our tech-based innovative automobile buying and selling solutions.
Q6. Give us a sneak peek into what you'll be presenting at Two Wheeler forum (taking place on 30 Aug 2018 at The Leela Gurgaon)?
Mr. Sandeep Aggarwal: We have seen continued growth of the two wheeler market year on year and we are confident that as we move forward the growth trajectory of this segment is only going to yield great results. We at Droom, have witnessed 25% growth in the sale of two-wheelers between 2016-2017 and are expecting close to 40% growth in the year of 2017-2018. This year itself we have sold about 17K bikes and scooters in the last 7 Months. It would be great to share Droom's success story and how it has become a revolutionary online marketplace for used and new automobile, contributing towards the growth of the sector.
Q7. What excites you to be a part of TWF 2018?
Mr. Sandeep Aggarwal: We are very excited to be a part of the Two-Wheeler Forum as we feel it's a great platform to network with like-minded people who are as passionate about the growing automobile market as we are. And definitely looking forward to the great speaker lineup.