Two Wheeler Forum (TWF), a unique independent platform for conversations around issues of top concern to senior executives across the entire Two Wheeler Industry, saw immense support for and participation in its inaugural edition at The Leela in Gurgaon on 30 August 2018. TWF was successful in bringing together 300+ delegates, 45 industry leaders as speakers, and over 30 partners.
It was evident that people who had come to attend the event, took with them immense knowledge and practical nuggets which they can apply in their workplace. From Hero Motors to Royal Enfield, the stage was set with dignitaries, to share their knowledge at this prestigious platform. In fact, TWF is the only platform in the country which was successful in gathering more than 30 C-Suit speakers from the entire Indian Two Wheeler Industry under one roof for a day.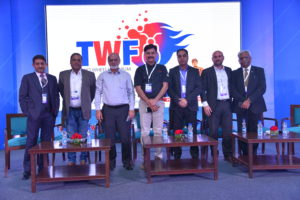 The Keynote Panel discussion which focussed on the current state of the Indian Two Wheeler Industry and the way forward featured industry stalwarts such as Mr. Pankaj Dubey – MD & Country Head Polaris India & Indian Motorcycles (India), Mr. Sohinder Gill – CEO Global Business HERO ECO & Director Corporate Affairs SMEV, Mr. Rajeev Mishra – CEO UM Lohia Two Wheelers Pvt. Ltd, Mr. Y S Guleria – Senior Vice President Sales and Marketing Honda Motorcycle & Scooter India, Mr. Malo Le Masson – Head Global Product Planning Hero MotoCorp, Mr. Nikunj Sanghi – President ASDC, Past President F A D A & Founder JS Fourwheel Motors, Mr. Jeetender Sharma – Founder & Managing Director, Okinawa Scooter and Mr. Kaushik Madhavan – Vice President Mobility, Frost & Sullivan South Asia.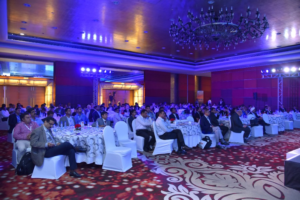 Amongst many thought provoking sessions during the day, the session on Electric Mobility laid immense emphasis on growing demand for electric 2 wheelers in the market and if government intervention is needed or not. Mr. Tarun Mehta, CEO & Co Founder – Ather Energy, was of the view that there is no dearth of demand in this segment and its booming each day. "We strongly believe that electric vehicles isn't an upcoming sector, instead it till be vehicles of tomorrow, replacing the current incompetent products" said Mehta. The other panellists were also of a similar view that though there is a huge demand but the segment also isn't discovered, people on day to day basis are still scouting for more conventional mediums.
This was followed by a panel discussion on "How to cater to the tastes of a new generation riders," that threw light on different aspects such as product development, price point, demand segmentation and concluded with very interesting and varied viewpoints as to what is the ideal product within two wheeler space to cater to the new generation.
In the manufacturing panel discussion, the moderator for the session, posed a question to Mr. P Bala – Co-Founder & CTO, Ampere Vehicles Pvt. Ltd. on whether manufacturing sector is ready to include some new technological measures in its present day working. To which Mr. P. Bala responded "there is no harm in bringing about changes in the existing setup but we even have to see if people in our industry are willing to accept those changes and to what extent. Investment in technology should have a clear perspectives in mind as to whom are we catering to."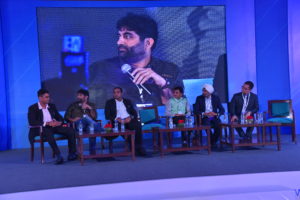 The above comment best exemplifies the event's format that emphasises on candid discussions on topics of wide industry interest and provoking conversations that matter.
Attendees gave an extremely positive feedback with 96% reflecting that they would recommend their industry colleagues to attend the next edition.
The convention was concluded with informal networking cocktail in the evening wherein delegates and prominent speakers and partners interacted with each other. Next edition of Two Wheeler Forum will be held towards the end of August in 2019 in Gurgaon and basis the phenomenal response received for the inaugural edition, the organisers expect a gathering of over 400 delegates, 60+ speakers and over 50 partners.